Challenge
An engineering integrator needed to replace the traditional hydraulic start system on gas turbine generators with a more compact efficient solution. Traditional pneumatic/hydraulic starter systems are complex and demand comprehensive maintenance due to the presence of filters, valves, solenoids, reservoirs, pumps/compressors, gauges, heat exchangers, piping/hoses and fittings.
POWERTEC Solution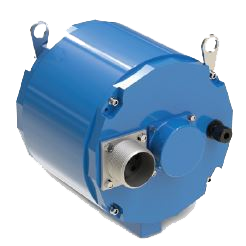 Custom Designed Permanent Magnet AC Motor
Performance: intermittent duty up to 335 lb-ft torque
Weight: 145.5 lbs.
Dimensions: 12.28" l by 12.13" h
Liquid cooled
Benefits
80% reduction in package weight and physical dimensions
Exceptional performance.
Efficiency improved from 92% to 97% with POWERTEC's solution
Extended service life, engineered solution
rated for 40-year life expectancy
RESULTS
POWERTEC partnered with the customer to design and manufacture a heavy-duty PMAC motor interacting with an overrunning clutch.
The electric motor was designed to fit in a compact physical space and weight restrictions.
The motor enclosure was designed to meet UL, ATEX, and IECEx Class 1 div 2, zone 2.
Download Printable Case Study